If you missed the news about Datagen getting $50 million in funding, I can understand why.
After all, the startup is hardly a famous Silicon Valley outfit. It's based in Tel Aviv, Israel, and likely won 't be going public for several years.
Of course, one of my roles here is to go beyond the headlines and not just spot what Wall Street misses but find ways to crush the market.
And that's just what we're doing today. See, it's the technology behind Datagen's success that so important.
It could make you a mint – if you know how to play it.
Datagen's success comes from its creation of so-called "synthetic data," a crucial part of every machine learning model out there.
In fact, synthetic data is a key component of almost every tech company's success today. It's what's used to train the machine-learning artificial intelligence (AI) systems that run much of today's tech world.
Without it, these AI systems just wouldn't be smart enough to be useful. Playing this trend profitably means zeroing in on the companies using synthetic data with maximum impact.
I've got one in mind – and it happens to be beating the S&P 500 in part because of its data…
Why This Tech Is Boosting Bottom Lines

Now, imagine your company is developing a new machine learning system. Maybe you're trying to get a smartphone's camera to identify human faces and focus on them.
Or maybe you're trying to get a car's dashboard camera to figure out if a human is crossing the road in front of the car, or whether the driver is dozing off inside it.
All you need is the training material to feed the AI so it can learn. Sounds easy… It's anything but.
The thing is, humans come in all manner of shapes and sizes. That means the AI needs to be fed hundreds of millions of images of different men and women.
We're talking different hairstyles, skin colors, in different poses, wearing different clothes, doing different things. That's how you make sure the machine learning model really understands what it looks like when a human is crossing the road or a driver is falling asleep at the wheel.
Getting these images from the real world would be hugely expensive. In most cases, there just isn't enough footage out there for companies to use.
That's where synthetic data comes in. This combination of Big Data and AI computer-generates simulated whatever visual images are required to train a given machine learning system.
Maybe it's hundreds of millions of different human faces at different stages of falling asleep. Maybe it's a billion images of pedestrians about to cross a billion different streets.
Whatever it may be, these simulated images are absolutely essential to creating modern AI. No wonder that almost every tech company in the world relies on synthetic data today. Datagen, for example, supplies its synthetic data to three of the world's top five tech companies.
And the firm's revenue has gone up by a whopping eight times over the past year.
In fact, research firm Gartner estimates that in just two years, 60% of all data used to develop AI systems will be synthetic data. In short, it's a huge growth sector.
Now, Alphabet Inc.'s (GOOG) Google is adding Datagen to its offering. But it's the end user who will use this synthetic data to succeed.
This company has what it takes…
Healthcare – Smarter and More Effective
And that's where Anthem Inc. (ANTM) comes in. It's currently changing its name to Elevance Health, but by any name, it's America's largest for-profit health insurer and the largest member of the Blue Cross/Blue Shield association. Anthem/Elevance is working with Google to feed its massive AI system aimed at spotting fraud and improving patient outcomes.
Despite its huge size, Anthem just doesn't have enough different patient histories, billing records, or insurance claims to properly train its AI. That's bad both for the company, which could be losing money on fraudulent claims, billing errors, and the like, and for patients, who could be walking around with all the symptoms of rare disorders that no one is picking up on.
It's why Anthem is partnering with Google. Along with Datagen, the tech giant will create 1.5 to 2 petabytes worth of synthetic data, including simulated insurance claims and patient histories, for Anthem.
That's an enormous amount of data. For comparison, the Library of Congress, one of the largest and most varied libraries in the world, holds "only" about 20 petabytes of information.
Anthem already has its AI algorithms search for fraud and billing errors. But the system doesn't have enough information to really judge whether something is out of place or not, and tapping Google and Datagen for synthetic data will massively improve the system.
It will also take Anthem's plans for using AI to help improve patient health and reduce insurance costs from the drawing board into the real world.
In short, Anthem is using synthetic data to fill the promise of Big Data. It will also make the company's algorithms less dependent on making mistakes because the data it was fed on was skewed.
This push for AI trained with synthetic data will give Anthem a huge advantage against its competitors.
The Edge Shows in Share Prices
The company pays a nice 1% dividend we can collect as we watch for its AI projects deliver big windfalls.
The stock is also in a powerful uptrend, and has been crushing the market this year. While the broader S&P 500 has returned -12.4% for the year, Anthem's stock is up more than 7%.
This is a stock you can count on for the long haul because in addition to its push into AI, it has strong profit margins and has very stable earnings – even in a high inflation era.
The Metaverse is another tech trend that's set to do wonders for medicine; surgeons are already performing remote operations "in" the Metaverse.
But that's just the tip of the iceberg. The Metaverse is going to revolutionize how we live, work, and play in the coming decade – which is why many analysts agree it'll ultimately generate $8 trillion in wealth.
Right now, I'm watching what I call the "Metaverse triple play" – two stocks and one cryptocurrency. I believe they'll be essential in helping build this virtual world, and I think very real money will come of it. All three of these are due for a 1,000% return in the coming years – here's why.
Cheers and good investing,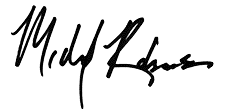 Michael A. Robinson
Latest Appearance…