Last year, Meta Platforms Inc. (FB) garnered a lot of media and investor attention when it changed its name from Facebook, but so far as the public can tell, they haven't done too much more than change the stationery.
But there are signs that's about to change in a big way.
Sometime this year, the first set of augmented-reality (AR) "Meta goggles" will hit the market, courtesy of the company driving the tech I'm going to talk about today.
This firm's technology is the key to unlocking AR, which, in simple terms, is a sort of technologically enhanced, data-rich view of the real world around us.
AR, in turn, is the key to unlocking the $8 trillion potential of the Metaverse; it's the tech that puts us in the Metaverse.

That's one of the reasons why the AR segment alone is likely to hit $36 billion by 2024, and why this company belongs right up there on any tech watchlist…
This Company Has AR "First-Mover" Advantage
Goggles are, essentially, the keys to the Metaverse; they're what make the virtual-reality-meets-reality experience truly immersive and, when done well, mind-blowing.
Microsoft Corp. (MSFT) is a player here; the U.S. Army was in negotiations for AR headsets and they opted for Microsoft's HoloLens product.
Magic Leap, the company I want to tell you about, was also a contender for that contract, and although the Army opted for Microsoft, Magic Leap is packing more hardware "firepower" with its Magic Leap One headsets.
Magic Leap has a head start over other companies that have only worked in the Metaverse for the past year or two. In fact, some forward-thinking surgeons in California are already using the devices. Unity Software, Inc. (U), developers of the hugely popular Unity game engine, have a Magic Leap device available for use by AR creators developing for the platform. Interestingly, they've developed an app called SeeSignal that lets users wearing an AR rig see the strongest cellular, WiFi, and Bluetooth signals available in a space.
This really speaks to the productivity-enhancing potential of the Metaverse – it's not just for recreation and video games, but it has game-changing potential for medicine, research, the military and police, industrial manufacturing, and beyond. As I mentioned, surgeons at UC Davis Children's Hospital in California routinely use Magic Leap's tech during surgical procedures.
Leadership and Value on Display
The company recently brought in Peggy Johnson, from Microsoft, as the Chief Executive Officer. At Microsoft, she was executive vice president of business development, and she's worked for General Electric Co. (GE) and Qualcomm Inc. (QCOM), as well. Her goal at Magic Leap is to help focus the company on serving the enterprise market.
Magic Leap is currently developing its next-generation "version two" Meta glasses, and it's making all the right moves to get there. The updated hardware is expected to hit the market this year and is competitively priced at $2,295, compared to the Microsoft HoloLens 2, which retails for $3,500 per unit. According to company chiefs, the Magic Leap 2 headset will be "among the lightest and smallest [headsets]" on the market, and it will sport a wider field of view and a dimming feature for use in brighter settings.
The company itself is "attractively priced," too. It was recently valued at $2 billion, with plenty of room to grow, and it recently clinched another $500 million in funding. Unlike many other startups at the moment, headcount is running flat, as in, not declining, which is another good sign that Magic Leap will prevail over the current stiff startup headwinds blowing through Silicon Valley. Past funders have included Alphabet Inc. (GOOG), Andreessen Horowitz, Kleiner Perkins, and Alibaba Group Holdings (BABA), to name a few. Clearly, Silicon Valley believes in Magic Leap – and so do I.
Of course, the Metaverse itself could be worth as much as $8 trillion, by some estimates. Easy to understand why – it has the potential to touch every facet of our lives, at home, on the go, and in the office, as you've just seen. You can't own Magic Leap yet, but I'm looking at two small companies and one cryptocurrency that could become central to the Metaverse, and potentially soar in value over the next months and years. Details on those here.
Cheers and happy investing,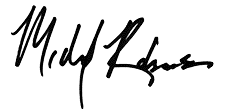 Michael A. Robinson