What might have seemed like a back-page story at the time actually turned out to shine a light on a new tech trend.
See, back in October 2020, the media reported that a federal study proved that Covid, an airborne virus, wasn't being spread on aircraft.
That had two effects. First, at a time of high anxiety about the highly contagious and deadly virus, it helped calm the public. And second, it shined a light on the importance of great ventilation, and not just on aircraft mind you.
Industry analysts say the general topic of advanced ventilation led thousands of homes and offices to beef up their own systems.
Indeed, demand for smart home and office technology that can control and monitor these platforms is booming. It's set to double in the next seven-and-a-half years.
At that point, says a report by Allied Market Report, the sector will be worth $78.2 billion.
Let me show you how to get your fair share of that windfall…
This Company Has 4 Million Customers in 150 Countries
Recently, The Wall Street Journal ran a story on the situation. The piece features one new office building that uses a whopping 300 sensors per floor to ensure excellent air quality and safety.
For example, every room has sensors that measure the levels of particles and of carbon dioxide (CO2) in the air. When those levels get too high – a sign of bad air quality or "stuffy" air, linked to higher levels of Covid and other viruses in the air – the building's system automatically directs more fresh air into that particular room.
In other words, gone are the days of heating, ventilation, and air conditioning (HVAC) systems that are simply on or off for a whole floor or building. Today, ventilation, temperature, humidity, and air quality are measured and controlled on a granular level, to ensure air quality and safety.
The 23-floor office building featured in The Wall Street Journal even has a dedicated control room with wall-sized monitors, displaying information from air quality sensors, doors, elevators, and much more.
Not only does this increase air quality, but it also saves on energy – and thus on money.
Of course, this trend isn't limited to just this building. Office buildings everywhere are moving to increase air quality, physical security, and saving money by becoming smarter.
And the millions of new remote workers are upgrading their homes to have the same kinds of features, too.
Now, this new building is Honeywell International Inc.'s (HON) brand-new office, first designed in 2019. The company specialized in exactly this kind of smart-office and smart-home technology, which is why I have recommended them several times in the past and continue to do so.
But I would be remiss if I didn't reveal a company that is a stellar play on the hot smart-tech sector.
I'm talking about none other than Johnson Controls International (JCI), a leader in fire, security, and HVAC technology for buildings.
Founded in 1885 as its founder, Warren Johnson patented the world's first electric thermostat, Johnson Controls single-handedly created smart-building technology and the industry around it.
Today, the firm employs some 100,000 people who serve over 4 million customers across 150 countries. It continues its founder 's tradition of innovation and holds more than 8,700 patents.
An example of that innovation is the company's new HVAC filter solutions. Created after the Covid pandemic, these new filters are designed precisely to eliminate virus particles from the air, reducing the spread of the coronavirus and other diseases.
For businesses eager to reopen and draw customers back in, that's crucial.
It also ties nicely into Johnson Control's robust offerings of smart building tech that integrates AI with fire safety, physical security and access control, and ventilation. Using the company's tech, building managers or even whole cities can respond quicker and smarter to fires and natural disasters, all while reducing energy use and saving money.
In hospitals, similar technology can also reduce energy waste while increasing patient comfort, and quality of care, and reducing infections.
For example, Johnson Control's smart lighting and HVAC systems can allow patients to easily control the lighting and temperature in their own rooms. At the same time, by monitoring air quality, the system can direct fresh air where it's needed, without wasting energy on empty rooms.
The same technology can also track medical devices as they are moved from room to room, alerting staff if a device hasn't been cleaned and sterilized before being reused.
Of course, none of this will work in a hospital setting if it requires patients or stall to press buttons – shared surfaces that can be key sources of infection spread.
That's why Johnson Controls is working to integrate all these smart building systems with AI voice recognition and control. This would allow everything to be controlled through speech, while ensuring patients can only control their room, for example, while staff can override those requests when needed.
The impact both on energy savings and on reducing hospital infections could be huge. The same could be true in restaurants, stores, and other crowded venues.
Johnson Controls recently reported strong earnings. Adjusted earnings came in at $0.63 per share, 21% higher than a year before. Sales were up 9% over the same time period, at $6.1 billion. Impressive, given how much Covid affected the construction industry.
As the importance of air quality, comfort, and security will only continue to rise in both office and home, Johnson Controls definitely needs to be on your tech investing watch list.
As tech investors, we want to own growth wherever we can, which is why I'm enthusiastically recommending this small defense company. Lockheed Martin Corp (LMT) actually tried to buy it, but was turned down – it's likely they wanted to own the firm's potential 72X sales growth by 2030 themselves. You should have no problems, though – here are the details.
Cheers and good investing,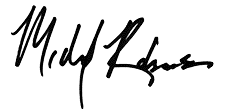 Michael A. Robinson