One could hardly be blamed for looking at the market these days and feeling a little bit uneasy about how to invest. Supply chains are strained, concerns about inflation are widespread, and people are quitting their jobs in record numbers.
But the thing is, tech is still the best place to make money investing. The NASDAQ, with its focus on technology and life sciences, has been seriously outperforming the S&P 500.
The tricky part is that the biggest names in the sector, the FAANG companies, are not the ones leading the way this time, and smaller-cap companies can make for choppy trading, since they don't have the strength or presence in the market to pass on inflation-driven costs.
All of these factors combined can lead to no small amount of uncertainty, but that doesn't mean it isn't possible to approach the market carefully, control for risks, and maximize your chances.
Today, I want to share with you my three favorite tools for doing just that…
Choppy Market Tool No. 1: The Cowboy Split
I'm shocked more professional investors don't know about this powerful moneymaking tool. But it's one we use here all the time.
Simply stated, the Cowboy Split is a staggered-entry system. You take a position in a stock at market – and then enter a "lowball limit" order to buy more if a discount comes your way.
In general, I recommend employing a 15% to 20% discount from your entry price as a second buy point. Here's how it works…
You acquire 50% of your intended stake of XYZ Tech Corp. at a price of $50. In this case, should the market trigger your "lowball limit" order, you would automatically buy a second 50% stake at $40 a share, for an average price of $45.
Now assume XYZ rallies all the way to $60. You would then have a 16.6% appreciation on your original shares. But it's that second stake that really juices your profits.
See, that second half's gains are double those of your first buy. This way, you end up with overall gains of 25%, or roughly 50% more than had you just bought your full stake at $50.
Choppy Market Tool No. 2: The Free Trade
Whenever a stock doubles in value, take a free trade and lock in gains. That's a sell order for half of your stake. Doing so means you have all your original capital back and are then playing on the house's money.
It's a powerful way to protect profits against a choppy market with two side benefits. First, you can end up owning a suite of stocks for free. And second, you stay in the position to reap any new upside.
But this tool becomes even more effective at securing profits when you combine it with my third and final choppy market tool. By using both of them together, you can effectively guarantee massive profits against sudden market moves.
Choppy Market Tool No. 3: The Autopilot Profit System
Whenever possible, set yourself up so that you exit a position with specific gains no matter what happens.
That's where the "Autopilot Profit System" comes in handy. It's a unique way of protecting profits with a combination of taking gains and using trailing stops.
It's a great way to take some money off the table if you want to protect gains before a free trade would kick in. The tool works like this…
Let's say you sold a portion of XYZ Tech when it was up 30%. Now, you can afford to see if the stock still has more upside while at the same time protecting your profits against any reversal.
In this case, you could set your stop at your original entry point and walk away with combined gains of 15%. Or you can set the trailing stop above your entry price to lock in more money.
The beauty of the system is that you set up your minimum profit figure in advance. After that, there's no need to worry about what happens, because the Autopilot System is protecting your hard-won gains.
Like I mentioned above, this technique pairs excellently with the free trade. You can set a 50% trailing stop on the second half so that you walk away with combined gains of 75% no matter what happens.
You can see that by using our Choppy Market Tools you can keep on investing in winning tech stocks – even in this rocky market – and know that we're prepared for anything the world throws at us.
Now, these are the basic tools, but I also have specific companies in mind when it comes to how best to play this moment in the market, and I'm ready to share them with you. You can get started right here.
Cheers and good investing,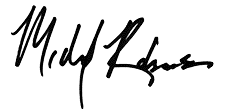 Michael A. Robinson