Despite the coronavirus panic – or perhaps because of it – the robotics industry recently saw deals worth $3 billion.
Here's the thing. We're just scratching the surface here.
That amount only covers high-profile deals by two major Silicon Valley firms. One was for venture capital funding and the other for a big merger.
But quietly and behind the scenes, robotics and automation firms garnered at least another $3.9 billion in funding.
And that's just for February and March of this year.
So, it should come as no surprise that with the coronavirus serving as a fresh catalyst, robotics adoption is likely to grow significantly from here.
After all, one of the most significant effects of the coronavirus has been the fact that it has driven businesses to get human hands off of important work, whether that's through digital connections or robotic automation.
A new report by MarketsandMarkets says that just the use of industrial bots will grow by roughly 10.4% year, meaning it will double by the end of this decade to more than $73 billion.
With that in mind, today I want to reveal a great way to play the broad waterfront of this field with a market-crushing investment…
The Automotive Revolution
Now then, you should know that I am personally involved in the field. Specifically, I do some consulting for Aitonomi, a European startup working on AI-powered autonomous delivery vehicles.
This is one of the reasons why I pay attention to what's happening with private funding in the space as well as mergers and acquisitions.
That's because more funding rounds increase the firm's chance to gain more venture funding. I also look at mergers and acquisitions because that is a great way for a startup to cash out.
So, I'm happy to report good news on both fronts. Let's start with the most recent merger.
On May 5, Intel Corp. (INTC) said it is buying Moovit for around $900 million. Moovit provides cloud-based software used to give navigation and other tools to driverless "robotic" cars.
Just two months earlier, self-driving car firm Waymo received funding of $2.25 billion. That's a stunning amount for a first round of venture capital.
These deals show the two sides of the robotic coin. Analysts say that by the end of this decade the vast majority of the 70 million cars sold each year will be made mainly by robots. By that time, nearly all cars will be self-driven.
The Broader Transformation
But there is a lot more going on in robotics and automation. The field covers everything from industrial robots along with chips and sensors to the software that runs it all.
The online trade journal the Robot Report says that investors poured roughly $2.7 billion into robotics startups in March. That followed roughly $1.2 billion in funding the month before.
There's just one problem; It's virtually impossible for most retail investors to get in at the private funding stage.
And if they could, that would greatly limit exposure to a field that is busting at the seams. So, in a case like this, I think it is better to avoid trying to pick winners and losers and instead play the entire sector all at once.
That's why I continue to recommend the Robo Global Robotics & Automation ETF (ROBO). Take a look:
Racing Ahead of the Market
Let me be clear on one thing. ROBO's 0.95% expense ratio is higher than I generally like to pay. But I am making an exception here because this ETF appears especially well-built to capture the field's sizzling growth.
And it is greatly beating the broad universe of stocks. Over the past year, the S&P 500 is up roughly 3.2%. By contrast, ROBO has tripled that, rising 10.4% over the period.
Launched in late November 2013, this relatively young fund still faces plenty of upside. Priced at just $38 a share, ROBO trades at a fraction of some of its notable portfolio holdings.
In other words, with this one play we get the safety of owning a group of stocks along with all that high performance.
And if you are not yet ready to pull the trigger on ROBO, then at the very least, this high-quality investment should be on your wealth-building watchlist.
The Underlying Network
Of course, these robotics technologies are only part of the broad-spectrum disruption of the entire economic framework that is going to be transforming our lives in the coming years.
We are currently living in what I like to call the "convergence economy," an unprecedented time in which today's innovations are making tomorrow's innovations possible, all right on top of each other.
Massive leaps in automation such as robotic surgery and self-driving cars would not be possible without the ultra-fast wireless networks needed to provide them with the information they need to operate.
That's where another massive innovation, 5G wireless, comes in. I've been doing some special research into how this massive leap forward in digital connectivity will be transforming our economy.
I've also found a few ways in which it could transform your net worth with a few key investments.
Just click here to learn all about my new discoveries.
Cheers and good investing,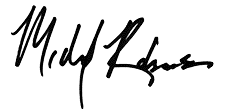 Michael A. Robinson