Cannabis stocks have been taking a shellacking since marijuana went fully legal on Oct. 17.
And that was to be expected.
Those stocks made a huge amount of gains leading up to that big day, and investors are taking them.
So I hope you're doing some of that shellacking yourself – and loving it.
But this doesn't mean the once-in-a-lifetime opportunity that legal cannabis represents is over.
Far from it.
I can see more catalysts for pot stocks lining up for, basically, as far as I can see.
First up: Nov. 6, Election Day.
That's when voters in four states will cast their ballots on new cannabis legalization measures that will allow millions more Americans to purchase legal weed of the recreational and/or medical variety.
And that will bolster the bottom line of the best cannabis firms.
Which will, in turn, lead to higher share prices.
After all, as we always say around here when it comes to legal cannabis: When laws pass, stocks soar.
It's our mantra.
Now let's recall exactly what happens when laws pass.
Six years ago, Colorado and Washington became the first states in the nation to legalize recreational cannabis sales.
Since then, seven more states and Washington, D.C., followed. And along the way 30 states in total have legalized medical cannabis.
And 64 cannabis stocks have soared past 1,000% gains. Dozens more beyond that have reached triple-digit gains.
Meanwhile, many more states – including big ones like New Jersey, New York, and Pennsylvania – are considering recreational legalization via statehouse legislation.
After that, more voters will go to the polls and decide on legalization in 2020… and 2022… and, well, you get the picture.
Or maybe not.
Former Speaker of the House John Boehner says that "I have a strong suspicion we won't be waiting five years to see the federal government legalize cannabis." In fact, he tells us that right here.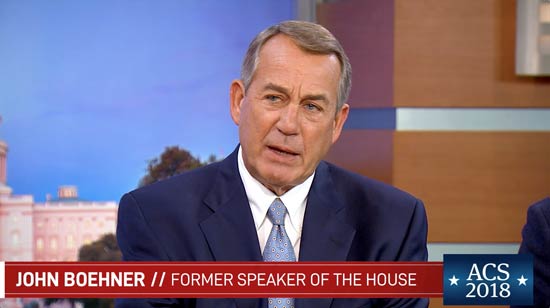 So maybe we won't have to depend on heavy lifting from voters and state legislatures anymore.

Or perhaps the STATES Act – which would basically decriminalize marijuana nationwide – will pass. President Donald Trump has said plenty of times that he supports it.

And other nations are going to follow Canada's lead and go fully legal. Mexico, Italy, and South Africa, among many others, are all considering it right now.

Like I said: Pot-stock catalysts… as far as the eye can see.

According to analysts at Arcview Market Research, spending on legal cannabis worldwide will soar to $57 billion by 2027. The North American Market alone will soar from $9.2 billion in 2017 to $47.3 billion a decade later.

There's a revolution happening – in both laws and profits.

That's why now, if you haven't yet, is the time to check out the American Cannabis Summit.

During this historic happening – the first-ever nationwide cannabis investing event – former Speaker Boehner and a host of other industry experts show pot stock enthusiasts how to stake their claim to this $10.8 billion (and growing) industry.

Click here for a private airing.

And let me know if you find it useful – and profitable.