The iPhone 8 is set to hit the streets this fall – a little more than 10 years after the iPhone's debut in summer 2017 – and all indications are it'll be the smash hit we've been expecting.
Of course, the Apple Inc. (Nasdaq: AAPL) fans out there are excited, as we knew they would be.
I'm an Apple fan myself, but I'm fired up mostly for an entirely different reason.
Now, it's not because of what the iPhone 8 is – the latest iteration of an outrageously popular and undeniably cool piece of personal tech…
And it's not for what the new iPhone represents – the 10th anniversary of "iEverything"…
Rather, it's because of what the iPhone 8 has…
Biometrics.
The iPhone 8 (and, in short order, nearly every smart device that hits the market) will have some extremely sophisticated biometric technology onboard, largely thanks to this company…
A "Backdoor" to Every Smartphone Out There
Fingerprint recognition, voice recognition, iris recognition, and facial recognition are just some of the biometric functions we are coming across more and more in our daily lives… or soon will be.
Fact is, we're already using them to some extent. The last generation of smartphones from Apple, Samsung Electronics Co. Ltd. (OTC: SSNLF), and LG Electronics Inc. (KRX: 066570), for instance, included fingerprint readers. Plus, tens of millions of Americans are on a first-name basis with Siri, Alexa, and "OK Google."
All of these can keep your device safe, read you curated news, order you a pizza, or call you an Uber.
As the list of indispensable devices gets "smarter," the demand for biometrics for security or device-input reasons is growing at an increasingly rapid rate.
BRILLIANT: Average Americans Are Becoming Marijuana Millionaires
In 2015, the biometrics industry was worth roughly $10 billion. But according to Grand View Research, by 2025, biometrics promises to be a $60 billion industry – a 600% increase in just eight years.
And that's conservative. A recent report from Research and Markets projects a compound annual growth rate (CAGR) of 23% over that same time frame, with the industry hitting $70 billion by 2025.
The difference between these two estimates is about what the entire biometrics market was worth barely three years ago.
This is becoming the must-have tech.
In High Demand
Biometrics used to be reserved for science fiction – or at most the R&D departments of big tech players or, on the other end of the spectrum, by niche startups.
There wasn't great demand for these technologies because they needed a lot of focused support to work. It was difficult (and expensive) at the time to fully realize biometrics technology, even as the world's computers and devices grew more tightly interconnected.
Could You Claim a BIG Payday Thanks to Big Tobacco? Yes!
It's very similar to the "Convergence Economy" we talk a lot about here – the growing interrelationships between various sectors of the economy that are now completely dependent on high tech.
This connectedness is fueling a raging demand for authentication and access, two things without which devices are useless.
Hacking and stealing login information, banking information, medical records, passwords – name it – gets easier with each new surge in computing power. It's now conceivable criminals could "hack" a system with little or no computer savvy of their own.
Hacking biometrics, on the other hand, is much, much more difficult and complicated, especially when confronted with features like fingerprint or iris scanners. Biometric devices, by their very nature, are much more secure than traditional usernames and passwords, and so the time to strike this niche is now.
Biometrics are convenient, too. So convenient, in fact, that I expect we won't be able to live without them much longer.
Voice and facial recognition, seen in Google Home devices that can recognize and manage six different accounts simultaneously, allow us personal experiences with our technology, enhancing the user experience, increasing the "Wow!" factor, and adding fuel to explosive demand.
And because of the great strides in artificial intelligence and machine learning, the more you interact with these devices, the more they "know" what you do and want, and the more valuable they become to the companies that crave Big Data.
And they're all willing to pay big dollars to get it…
Billions in Untapped Value
Incredibly, biometrics is still very much under the radar. That means we're certain to enjoy "first-mover advantage" when we move into the stock I'm going to show you.
For the moment, investors and, importantly, analysts are still focused on devices' adoption of the technology, rather than looking out for the companies that are building the next generation of biometrics-equipped devices and apps that will in short order become as ubiquitous as Google Maps and Siri are today.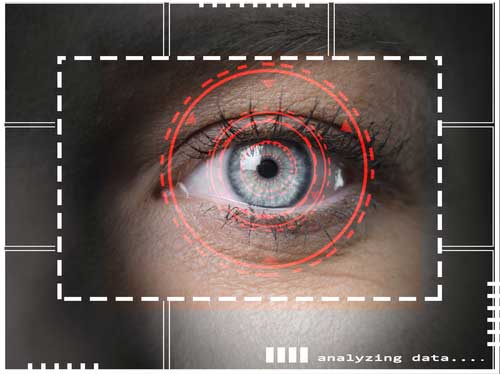 Companies, research institutions, and even the military – all racing forward in biometrics and smart tech – are all turning to one company to make it all happen.
I'm talking about Synaptics Inc. (Nasdaq: SYNA).
This company is actually more than 31 years old. But for all intents and purposes, the firm made its "debut" in 1992, when it developed the first touchpad for portable computers.
Back then, laptops were limited in their size by the inclusion of a tracking ball. Synaptics' touchpad was a game changer that Apple adopted for its legendary Macintosh PowerBook 500 series of laptops in 1995.
Synaptics then pioneered "capacitive touch," which relies on the electrical properties of your skin (as opposed to "resistive touch," which requires a "pointer" object like a stylus), in 2005 for cell phone keypads, jolting the growing mobile market.
BREAKING IPO NEWS: How Much Are Lyft Shares?
The one major challenge Synaptics has had recently is its competition. They've "forded the moat," taking market share as consumer tech firms are looking to grow their margins wherever they can – especially since China's consumer-fueled economy has cooled.
To regain an edge, Synaptics has been on a bit of a buying spree this year. Within the past few months, it has bought voice and audio firm Conexant Systems Inc. and the multimedia services division of Marvell Technology Group Ltd. (Nasdaq: MRVL).
The goal is to keep Synaptics one step ahead of the competition and grow its role in the interactive-device space for the future.
For example, Conexant's voice technology is used by Alexa, the personal assistant from Amazon.com Inc. (Nasdaq: AMZN). And Marvell's group is very involved in connected car and driverless vehicle technology.
Both of these acquisitions are incredibly savvy. They'll boost Synaptics' bottom line immediately and offset some of the slowdown in the broad mobile device market in the first half of the year.
The last quarter of the year, on the other hand, promises to be red hot. DigiTimes, a daily newspaper reporting on the Chinese and Taiwanese semiconductor, electronics, computer, and communications industries, has released research that predicts a 191% increase in TDDI (touch and display driver integration) chips for the second half of 2017.
TDDIs are used in all smartphones and mobile devices. And as the new models from major producers are changing the size of their screens as well as their resolution, they will need new TDDI chips for the new formats.
While Asian producers are expecting to grab 40% of that, Synaptics should get the 60% "lion's share" of that windfall.
That means it's time to move…
A 25% Off Sale
Synaptics has been confusing investors most of the year, but the growth potential couldn't be more obvious.
My conviction on this stock is perfectly clear.
Its third-quarter 2017 report back in April included the news that Synaptics was buying Conexant and Marvell's division. That naturally helped boost shares.
But the company's fourth-quarter report threw a wet blanket on its stock. Concerns over its "mild" guidance knocked about 20% off the share price in short order. In fact, the company is down more than 25% over the past 30 days.
I believe Synaptics kept its forward guidance low as it digests its two acquisitions and starts to leverage those operations. Of course, the market severely punishes companies that don't post wildly optimistic forward guidance these days. But usually that punishment is short-lived, which means we have an opportunity to move on Synaptics while its premium has been cut
That gives us the perfect entry point.
CHECKMATE: The Pentagon's New Superweapon
You see, those same fourth-quarter numbers that jolted the shares lower also showed revenue up 34% year on year. The new pessimists also forgot all about strong revenue from the third quarter.
That's to your great advantage. The 25% plunge looks more and more like an outrageously tempting discount.
Synaptics' sharp acquisitions will be a powerful wind at its back in coming quarters. What's more, its dominating share of TDDI chip sales hasn't been priced in yet, although there have been recent signs that the news was sinking in. Still, that's going to make for serious tailwind in the coming months.
By the end of this year, you could have up to three new iPhone launches, new Samsung models, and new Google Pixels. Going into the year-end holidays, the personal assistants and household concierges from Amazon, Apple, and Alphabet Inc. (Nasdaq: GOOGL) will be huge.
Synaptics has just wired in more – many more – avenues of growth, yet the market is still looking at it as if nothing has changed. Take advantage of that at $40 or lower, and watch as these shares rocket toward $80.
Have a great Labor Day weekend.
I'll see you back here soon.